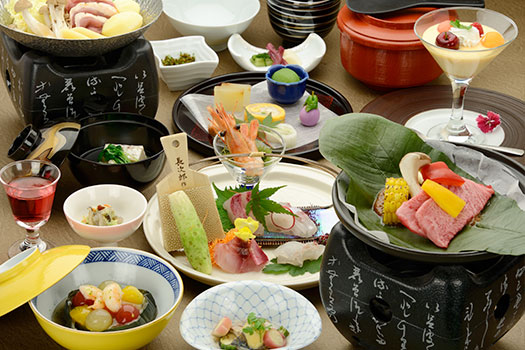 Dinner
Enjoy our outstanding "Kaiseki" dinner course served to you by our staff while relaxing in the comfort of your room.
"Kaiseki" is a full-course Japanese-style dinner originating from the traditional tea ceremony.To make your experience more enjoyable, we offer some customization.
Several different aperitifs and desserts, and main courses can be prepared seasonally to meet your personal tastes.Our staff will explain the dinner options available for that day upon arrival.
Full course dinner consists of approximately 10 dishes.
* Due to the extensive preparation of our cuisine, guests arriving after 7:00 p.m. will not be able to receive the traditional "Kaiseki" dinner.
* Dinner course menu changes every month. Those images are examples.
Breakfast
Depending on your specific tastes, you can choose between a Japanese or Western style breakfast. Our staff will ask for your choice the day before breakfast is served.
About Food Allergy
We are afraid that we cannot accommodate fully for food allergies. We will try to do our best. However, some ingredients may contain allergens, and allergens are handled and prepared in the same environment with all other food items, so trace amounts of these allergens may be found in all dishes. We appreciate your understanding in this matter.